Jocie Brooks reviews Mushrooms of British Columbia for the British Columbia Review.
"I found this guide to be completely satisfying on every level. The text is clear and concise and informative without being overwhelming. Photos of people, quotes and the short essays throughout provide and element of fun, whimsy and human interest. Detailed species descriptions and diagnostic photos provide plenty of scientific information for the serious fungi enthusiast. Many professionals were consulted in the creation of the book, and acknowledgement is given to experts who reviewed various sections. It is wonderfully thorough and well planned. I don't like to judge a book by its cover, but it has a gorgeous eye-popping cover to boot!"
Shaw TV Spotlight did a four-minute feature about mushrooms featuring Andy and Kem. Put together by Ryan Spedding.
Vancouver's famous Georgia Straight magazine recommends Mushrooms of British Columbia as a Christmas gift. 
"This amazing reference book by two mushroom experts features gorgeous photographs and illuminating write-ups of many species of fungi in B.C. It's ideal for amateur mushroom pickers because it just might prevent them from scooping up the poisonous ones. B.C. lawyer Michael Doherty summed it up this way in a message to the Straight: "If you're the kind of person who goes to a guidebook when you see a bird, or an animal, or a tree that you don't recognize, well, now you can do the same with mushrooms.""
Jessica Walker at Munro's Books in Victoria recognizes Mushrooms of British Columbia in the new (Dec 2021) Quill & Quire. The magazine had asked players in Canada's book community to nominate their books of the year. Thanks, Jessica.
From the back cover:
"The new Mushrooms of British Columbia is a very welcome and useful addition to our understanding of the world of nature. I have always felt that it is important to know the names of our neighbours of other species. Mushrooms are a perfect topic to observe and learn about. The illustrations are clear and large enough to see well. The photos are colourful, sometimes humorous and always meaningful. This book will expand the pleasure and knowledge of anyone who spends time in nature."
—Robert Bateman, wildlife artist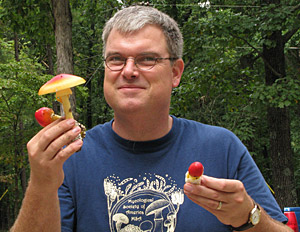 "A first in my lifetime—a guide to the mushrooms of BC! A long time coming, but so worth the wait. Mushrooms of British Columbia is a glorious book! You NEED this book . . . Mushrooms has everything: very large and wonderfully descriptive photos, and 350 species accurately described, with a total of 850 mushrooms and other fungi of BC. You will WANT this book for the side stories on special people and places in BC, rare species and the wry wit of the authors."
—Britt Bunyard, publisher and editor-in-chief of FUNGI magazine
"For amateurs and professionals, Mushrooms of British Columbia will be the go-to book for safe and accurate mushroom identification—with an extra dose of humour—to make your forays even more fun. I enthusiastically recommend this gorgeous field guide, which is clearly the best book for sojourns into the forests of BC. Andy MacKinnon and Kem Luther have co-created a masterpiece. "
—Paul Stamets, author of six books including Mycelium Running: How Mushrooms Can Help Save the World
Several early reviews of Mushrooms of BC were posted on Goodreads.
Sample:
"Very well done, very high quality book for mushroom/fungus enthusiasts. This would also make a superlative selection for library acquisition, and use in more formal instruction such as school nature walks, foraging groups, mycology groups, in addition to the home library. Five stars."
Comments on the West Coast Forager blog:
"I think Mushrooms of British Columbia [is] the must-have book for mushroom enthusiasts and those eager to broaden their knowledge of nature in British Columbia and the northwestern United States."
Some personal communications the authors have received:
"Hi dear friends. What a thrill to receive your beautiful book bookmark and all!! Thank you so much. Wouldn't Adam and Bob Bandoni be proud!!"
"I'm really liking the descriptions — proving once again that you can never have too many mushroom books. I try to keep up with name changes, but I see I've got quite a bit of work to do to catch up. Great job!"
"Your book Mushrooms of British Columbia came today. I love it! I like how you make it about British Columbia and give stories on Adolf and Oluna Ceska and stories on magic mushrooms. I like how you make a comment on how the present way that forestry is run in BC doesn't plan on how to maintain a good fungal diversity. It sounds like you want to protect old growth forests. The IUCN has a fungal red list but fungi are not assessed in conservation in Canada. This is something that I would like to change."
"It's fantastic – lots of interesting information supplementing IDs, and I'm looking forward to learning a whole lot more about mushrooms and the many ways they can be enjoyed. [My spouse] is already devouring the book, and I know he will be adding it to his already large mushroom reference library. It is a beautiful production, and will be really valued by us both…. Many thanks to you both, and the team you worked with to bring this book to market."
"Gentlemen! We wanted to congratulate you both on putting together a fun and informative addition to the literature. You should be proud. It is beautifully printed and handsomely put together. I have already mentioned it to a couple of our friends… Too bad it was not out, when [I and another person] were teaching the mycology course."
"What a treat! Nice job. You two should be justifiably proud of the content and quality of the publication."
"Well thank you, thank you, that is a GREAT book, so many interesting sidebars in it, or special stories, even a wee bit of drollerie…. "
Review in the Whistler Pique magazine from October 12, 2021, by Bob Brett.  Kem and Andy travelled to the annual Fungus Among Us festival at Whister in October. They helped to take 500 primary school children on mushroom walks and to lead, along with several other mushroom experts, walks that 150 adults signed up for.
Darron Kloster reviewed the Mushrooms of British Columbia for the October 17, 2021 Victoria Times-Colonist.
"Over the next several hours, I found about a dozen different mushrooms nestled along mossy boulders and jutting from stumps and logs.
I wouldn't have known any of them had I not recently come across the Royal British Columbia ­Museum's new field guide, Mushrooms of British Columbia, by Andy MacKinnon and Kem Luther."
A fun video review of Pacific Northwest mushroom guides by Buck McAdoo. The section on Mushrooms of British Columbia starts at 5:48.